Chase the Pudding
Be a part of something truly special this festive season by signing up for our Chase the Pudding event on Sunday 17 December. Join us to celebrate the tenth year of this  hilarious event by chasing our Christmas Pudding along the 5km beachfront route. For the under 14s there's Chase the Elf – just 2km!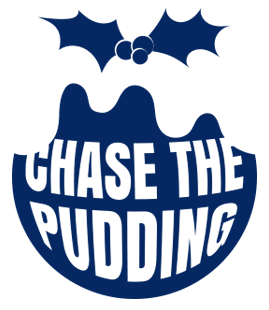 When:
Sunday 17 December 2017
Where:
Weymouth Pavilion
Entry Fee:
£15.00 (Adult)
Get together with family, friends or work colleagues, go Christmas crazy and know that with every penny you raise in sponsorship you will be going direct to our charity
What time does it start?
Registration on the day opens at 9.30am, the mass warm up is 10.45am and the Chase the Pudding race starts 11.00am, with Chase the Elf starting five minutes later at 11.05!
How much is it to enter?
Adults: £15.00 (includes Santa Suit & Christmas pudding!)
£10.00 (without Santa Suit)
Under 16s £5.00 (come along in fancy dress)
What's the route?
The 5km Pudding route is along Weymouth beach from the Pavilion end to Greenhill and back and the  2km Elf route goes to the pier and back.
The beach route is not suitable for wheelchairs and pushchairs but please feel free to use the promenade. Dogs under tight control and on leads are welcome.
Do I have to raise sponsorship?
Your entry fee purely goes towards the cost of running the event safely. To help us properly we ask you to raise sponsorship. We're really proud of everyone that signs up to raise their heart beats at our events and we know your family, friends and colleagues will be proud of you too, so please give them the opportunity to show their support by sponsoring you.
Anything else I need to know?
• All Santa suits are one size and can be collected at the registration desk on the day.
• Ample parking is available at the back of the Pavilion, however charges may apply.
Registration
Online registration is available until 12th December 2017. After this time registration will be available on the day in the Pavilion Ocean Room.
Don't forget to set up your online sponsorship page now by visiting http://uk.virginmoneygiving.com/charity-web/charity/finalCharityHomepage.action?charityId=1004934
Contact:
Pam Govier on
info@willmackanesstrust.org.uk